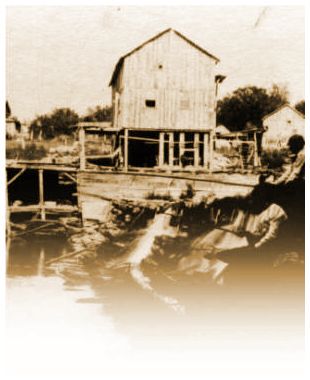 In 1850 Jacob Kidwiler started the first settlement in Hardin County on the banks of the Iowa River. Early Ackley settlers followed the high ridges across the prairie to his mill at Eagle City for supplies and to get grain ground at his mill. The dam washed out and the early mill became inoperative.
In 1865 Samuel Fossler purchased the mill site and at that time there was also a sawmill on it, built by Jacob Kidwiler, but it was not in running order, the dam having been washed out.
In 1869 Samuel Fossler erected the mill pictured here. It was a three-story structure and a large turbine wheel propelled the mill, which had three run of burrs powered by a 9 foot fall of water. It still had a sawmill running in connection with it. Mr. Fossler paid $2,250 for the property in 1865 which was valued at over $10,000 in 1880.