Wine Finds Its Time
Iowa wineries are defining a regional identity, producing an outstanding array of wine blends and varieties that help bring tourism and culture to the state.

By Sherry Freese

Say, "Iowa Wine," and you may think first of Amana wine, the popular fruit and berry wines made famous by the historic colonies' wineries.

Today, Iowa's wine industry offers a developing diversity including wineries that have been in a family for generations, several estate wineries and wineries in the process of starting up.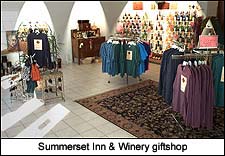 "Iowa wineries are producing an outstanding array of wine blends and varieties- everything from Piestengel (rhubarb) and Dandelion wine dating back to Amana's early communal era to California varietals and estate wines from Iowa-grown grapes," said Barbara Buchanan, owner of Amana's Old Wine Cellar Winery.

Buchanan also is the 2001 representative for the Iowa Wine & Beer Association, comprised of the state's bonded wineries, which are approved by the Federal Bureau of Alcohol, Tobacco and Firearms to sell wine commercially. She added that although Amana's history is in fruit wine expertise,
winemakers are expanding into drier table wines.

Several Iowa wineries -- principally Summerset near Indianola and Tabor Home Vineyards and Winery near Baldwin -- produce estate wines using grapes grown in their own vineyards or purchased from nearby grape growers. Ron Mark, Summerset owner/winemaker, and Dr. Paul Tabor, Tabor Home owner/winemaker, are strong supporters and organizers of the Iowa Grape Growers Association, which encourages farmers to plant vineyards as a valuable alternative crop.

Mark noted that Warren County has 16 vineyards within a 30-minute drive of his winery. Southeastern Iowa, especially near Fairfield, and western Iowa in the Loess Hills are other grape-growing areas.

ESTABLISHING REGIONAL IDENTITY
"Wineries with vineyards are trying to define a regional identity- which type of grape to use in our climate and which variety of wine to produce," Tabor said. "I've found Maréchal Foch is one of the grapes helping to define some of our best regional wine."

His Iowa Marechal Foch Nouveau recently won a "best of class" award, showing that Iowa can grow wine grapes of outstanding quality and character that will produce distinctive and highly competitive wines.

Mark uses primarily French hybrids and American varietals. He and Tabor also are working with Missouri wineries on a preliminary, limited experiment with the Eastern Bloc cultivars to see if the grapes will survive an Iowa winter. "In addition, we're introducing the Norton, which is the pride of Missouri and does well in Iowa," he said.

Like Summerset and Tabor Home, Timberhill Winery near Leon is also an estate winery and a "co-operator" with the state of Missouri in the Eastern Bloc cultivars evaluation. Owner Bill Brown said, "When vines come from other countries, they must be quarantined; at the present time, Missouri is the only state approved to grow these grapes."

Brown added he was also trying to establish a model for the "new" family farm-small acreages of 75-80 acres with grapes as a value-added crop.

Here's a brief tour of Iowa's bonded wineries:

OLD-WORLD WINES
Winemaking in the Amana Colonies' seven villages is a tradition of generations of experience. Today the nine wineries combine these century-old methods with modern technology to produce national award-winning wines. Many also feature gift shops.

Ackerman Winery, South Amana - Offers 22 fruit and dinner wines, including their gold-medal-winning Cranberry and Apricot, as well as Black Currant and Honey wines. The winery has received more than 150 awards in competitions for the last six years. Also sample their 30 varieties of cheese.

Der Weinkeller, Amana - Produces and bottles nearly 20 homemade wines in its century-old brick building, including fruit and berry wines, plus fine table wines. Cherry, Plum, Elderberry, Johannisberg Riesling, Chenin Blanc and White Zinfandel are among its varieties.

Ehrle Brothers Winery, Homestead - Iowa's oldest operating winery, established in 1934 after the Colonies ended their communal way of life. Ehrle Brothers features more than 10 fruit wines, plus offers its famous crock jug wine. It's also home to the original "Lover's Wine," made with the Amana Church recipe.

The Grape Vine Winery, Amana - Features 16 varieties of homemade wines distinguished by its corked, colored bottles and hand-lettered labels.

Heritage Wine & Cheese Haus, Amana - Offers 22 varieties of fruit and table wines, including Wild Elderberry, Vidal Blanc, Dry Chardonnay and Autumn Red; plus more than 40 kinds of domestic and imported cheeses.

Little Amana Winery, Amana - Located off Interstate 80 at Exit 225, and offers fruity wines, plus several dinner wines and full-bodied dessert wines such as Blackberry and Concord Grape.

Old Wine Cellar is home to Amana's only female winemaker, Barbara Buchanan. The wine list features traditional Amana-style fruit wines, plus premium table wines including Merlot, White Zinfandel, Vin Rose and Johannisberg Riesling.

Sandstone Winery, Amana - Derives its name from the century-old home, which is made of native sandstone, where the wine is made and sold. All wines are made from whole fruits rather than concentrates, resulting in real homemade wine.

Village Winery, Amana - Produces 15 different varieties of fruit and berry wines, including Cranberry, Apricot and Raspberry.

ESTATE WINES
Eagle City Winery, Iowa Falls - In the heart of the Iowa River Greenbelt, owned by Dr. Ken Groninga and his wife, Carolyn. A retired veterinarian, Groninga began making wines from various wild fruits and berries growing around the acreage. A few years later, he started a small vineyard. The winery presently produces five wine varieties: Merlot, Cabernet Sauvignon, Chardonnay, Riesling and Cranberry.

Summerset Inn & Winery, Indianola - Iowa's largest vineyard. It produces more than 50,000 bottles of wine annually and features a new tasting room. During Harvest Festival volunteers come from miles around to help pick grapes to make the wine for the coming year, as well as for the grape stomping and wine tasting to the tunes of strolling musicians.

Summerset is not just a winery. While it offers tasting and tours, it's also a lovely
bed-and-breakfast, featuring banquet facilities, theater presentations and bands on summer Sundays.

Tabor Home Vineyards and Winery, Baldwin - Has five acres of vineyards that include four acres of Marechal Foch for making three distinctive red wines; and one acre of La Crosse, a versatile white hybrid used for dry, barrel fermented-style dry white and a semisweet, fruity wine. Tabor Home produces 8,000 gallons each year, bottling 18 wine varieties. The winery is experimenting with other red-grape varieties-the hardy St. Croix grape and Norton/Cynthiana.

Timberhill Winery, Leon - Iowa's newest bonded winery. Presently, unlike the other wineries, Timberhill has no retail sales at the winery or winery tours, but sells through wine merchants, clubs or restaurants. Bill Brown and his wife, Sibyla, started Timberhill in 1985, experimenting with different varieties of cultivars; however, spring frost was a problem. His vineyards are planted with the Norton/Cynthiana grape, and the winery concentrates on Chardonnay and Norton wines, plus a sparkling wine of half Pinot, half Chardonnay. Brown's goal is to produce 5,000 bottles the first year.

Each Iowa winery is unique, and every wine a reflection of the winemaker's personality and creativity. Come enjoy the hospitality, taste the tradition and take home the heritage of Iowa's wineries.
---
Sherry Freese is regional editor of the Minnesota and Iowa editions of Home & Away.
BEFORE YOU GO: Tours, tasting and times vary at Iowa's bonded wineries. For general information, contact the Iowa Division of Tourism at (800) 345-IOWA (4692); or contact Iowa Wine and Beer. For more specific information, call the numbers listed below.
AMANA WINERIES
Ackerman Winery, Inc.: (319) 622-3379

Amana Colonies Convention and Visitors Bureau: (800) 579-2294

Der Weinkeller: (319) 622-3630

Ehrle Brothers Winery: (319) 622-3241

The Grape Vine Winery: (319) 622-3698

Heritage Wine & Cheese Haus: (319) 622-3564

Little Amana Winery: (319) 668-9664

Old Wine Cellar: (319) 622-3116

Sandstone Winery: (319) 622-3081

Village Winery: (319) 622-3448
OTHER WINERIES