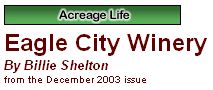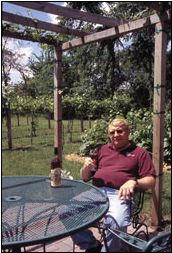 Across five miles of gravel roads between Iowa Falls and Ackley in north central Iowa, down a winding lane, in a clearing right next to the river, Ken Groninga happily tends to his Eagle City Winery. Located near the site of one of Hardin County's oldest settlements, the winery produces 5,000 bottles of wine in a handful of varieties each year.

Not a lot by some standards, perhaps, but for a beginning winemaker like Groninga it's just fine. This is supposed to be my retirement, you know, he jokes. When I decided to try making wine, I hoped to work my way up to 5,000 bottles (per year), but we did that in the very first year.

Groninga says he's always enjoyed drinking wine and serving it when entertaining. Yet it wasn't until he retired from his 30-year veterinary practice in Sheldon and moved with wife Carolyn to the old dairy farm in 1991 that he started experimenting with making his own wine from the wild fruits and berries that populated the land.

In 1996 he began planting a small vineyard and making plans to build a winery and tasting room. By 1998 his efforts earned a Best of Show ribbon in wine competition at the Iowa State Fair.

Now Eagle City Winery is one of just four commercial wineries in Iowa (outside of the Amana Colonies). It is a picturesque setting not far from Ackley, Groninga's hometown. For the last half of the 1800's Eagle City, a small village centered around a gristmill and sawmill, existed here. Making the leap from veterinarian to vintner wasn't that difficult, Groninga claims, and neither is making wine. It's pretty easy to make, he notes. I read lots of books about it, and then it was trial and error. I can honestly say I've never had a big batch go bad on me here.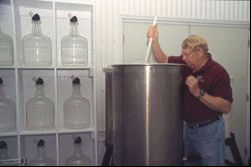 The concepts of chemistry and bacteriology that he used in his veterinary practice have been put to good use in the winery, adds Groninga. Once the fruit is fermenting into wine, for instance, the juice is tested for acid and sugar. If there's not enough acid, the wine tastes flat.

Four dry wines, four white wines, and one medium are produced at this rural winery. Cranberry, made from berries grown in Wisconsin, is a popular variety, as is rhubarb wine produced from Iowa rhubarb. The red altar wine from Eagle City Winery is used in communion at seven area churches, and Eagle City wines are served in restaurants in Iowa Falls, Fort Dodge, and Geneva. It's also for sale in 24 retail outlets within a fifty-mile radius of Iowa Falls.

His wine is popular, Groninga theorizes, because it's unique and different. People like it, he says simply. I've never had any complaints. Besides, wine is a healthy drink, and classier than drinking beer. Reduced rates of cancer and heart disease have been linked to regular, moderate use of wine. Although Iowa was formerly one of the top grape-producing states in the nation, an emphasis on corn and soybean production coupled with herbicide use saw a decline in the interest in growing grapes. Helping change that trend was the introduction of new grape varieties, a cross between French varieties and native grapes that can survive frigid Iowa winters. Lots of Midwest states are getting more into wineries and grape production, comments the vintner, who also does some consultant work for a vaccine company. Groninga's grapevines require the most attention in the spring, when they must be pruned, sprayed, and repruned, he says, adding that it takes some practice to learn how to prune correctly. The grapes are easy to grow in rocky, sandy soil.

The 120 vines at this Iowa winery are planted in neat rows just outside the gift shop, where they can get the sun needed. Because he can't produce enough grapes to meet the demand for wine from his winery, Groninga makes red wine from juice that comes from Chile and white wine from juice from grapes grown in Australia. Grapes are generally harvested in late August to early September. Exactly when is determined by their sugar content, which Groninga tests often as the grapes approach maturity.

When the sugar content reaches 23 percent, the grapes are harvested by hand into buckets, taken into the workroom behind the gift shop and run through a machine that separates the grapes from their stems. Another machine crushes them before the grapes go into stainless steel fermenters, where they ferment for ten to fourteen days before the must (fermenting juice) goes into glass bottles and spends another few weeks fermenting until it settles. After filtration and more settling, the wine is bottled and labeled for sale. The whole process takes 10 to 12 weeks.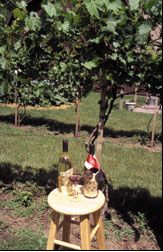 Just as he has learned over the past several years about the process it takes to make good wine, Groninga has become more involved with promoting and marketing his wine. He promotes his product through wine tastings and tours of the business, where 60 percent of his wine is sold from the gift shop that occupies one corner of his winery.

In warm weather, about a dozen tours per season come to see the winery, check out the gift shop, taste some wine, and learn a little about the historic wooded area that's bordered on two sides by the Iowa River. Visitors are welcome to stop by the winery on weekends but should call if they'd like to visit during the week. The original wooden dairy barn and the house that was built in 1863 still remain on the site.

In July the Groninga's enjoy hosting what they call Wine Tasting at Twilight, an evening open house with a wine tasting and a classical guitarist providing entertainment. For that evening, the old settlement comes to life with about 500 guests, the host notes. A similar event is planned for sometime each fall.

Eagle City Winery, 38536 160th Street, Iowa Falls, IA 50126. 641- 648-3669. winemaker@eaglecitywinery.com. www.eaglecitywinery.com