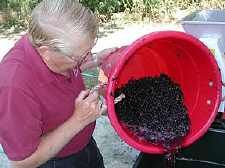 Dr. Ken Groninga poured the five gallon buckets of Fosch grapes in to the crusher/stem separator to begin the fermentation process. He employed the help of his wife and four other ladies to harvest this year's crop. While he will buy grapes from other Iowa grape growers, he expects to top last year's crop, which equaled about four tons an acre.
Dr. Ken Groninga said he has it down to a science. It only took a few years of trial and error. Lately, his job of wine making hasn't been much of either trial or error as evidenced by his awards in two international wine competitions this year. Groninga won a bronze medal in a competition in Michigan in January, and a silver in Indiana in July.
He did the same in those two competitions for over 3,000 commercial wine producers from around the world last year with a cranberry wine. He doesn't know what he'll do next year. "I'll enter something," Groninga added.
Groninga also judged wines at this year's Iowa State Fair, a competition he won a few years ago. "We had about 140 wines to judge," Groninga said. "It was a tough job. It went from about 10 in the morning to 4 in the afternoon, but somebody's gotta do it."
While his prize winning wines were made of rhubarb, Groninga recently enlisted the help of his wife and four other women to pick this year's crop of grapes from his own vineyard. The vineyard is seven years old, and yielded its first crop last year. Groninga said it usually takes upwards of five to six years to get a mature vineyard. He said he still makes other wines from other sources, including rhubarb and cranberry. He is going to buy
Groninga said the harvest last season was the equivalent of 4 tons of grapes. That, he said, will make a lot of bottles. He expects to get at least that much this year. He doesn't harvest his grapes until they contain about 23-24 percent sugar.
"It takes about fifteen pounds to make five bottles," Groninga explained. "Each one of these vines had about 15 pounds of grapes on them last year. I have 120 vines, and the crop looks good real good."
Groninga said the harvest is over a week later than last year, undoubtedly due to the same plight befalling other farmers drought. Still, the grapes were ready last week. Marie Arends, Helen Richtsmeier, Shelly Johnson, Dalene Bowman, and Groninga's wife, Carolyn, were out for a few hours picking one variety clean.
With each bucket, Groninga sent the grapes through a crusher and stem separator before beginning the fermentation process. From vine to bottle will take about 12 weeks, he said.
Groninga grows American/French hybrid grape varieties, including Frontenac, Foch, LaCross, and St. Pepin. The hybrid grape is a big reason wineries have flourished and grown in Iowa over the past few years.
"Up until these grapes were developed, we weren't able to grow a good grape in Iowa," Groninga stated. "Now that these hybrids have come on to the scene, we're (Iowa) getting into a lot more wine production. The big thing is, the grapes they grow in California, France and Italy-the merlots and chardonnays-won't grow in Iowa. When it gets down to 20 or 30-below, they die. These here are actually a cross between European grapes and our own wild grapes. They produce a good high-sugar low-acid grape that's suitable for making great wine, and at the same time is able to survive Iowa winters. That's why production of wine is becoming a pretty big deal in Iowa."
Groninga was making wine long before he opened Eagle City Winery three years ago. Outside of the Amana Colonies, Groninga said there were 30 acres of commercial grapes in the state just three or four years ago. Now there are over 500 acres.
"There are seven wineries outside of the Amanas, and nine in the Amanas," Groninga explained. "And it's growing. Within the next year or two, there'll be two or three more outside of the Amanas getting ready to open. Each winery has their own little region. Most of our business is right around here and northwest Iowa. Every winery in Iowa, that I'm aware of, has their own vineyard, but they're still buying grapes from other sources. None of the wineries in Iowa are able to keep up with their sales, so everybody is doing the same thing i am growing as many grapes as they can or buying from other sources."
With most Iowa vineyards small like his own, Groninga said many buy grapes from each other. He is going to be getting grapes from a grower in Pella to supplement his own harvest. In fact, a ton of the Fosch grapes were delivered last week.
"I wanted to produce more wine this year, but the size of my vineyard is limited," Groninga explained. "So I am buying from another Iowa producer. I'd just as soon buy the same grapes I'm growing from other Iowa producers than expand. That way I can concentrate on running my winery."
Groninga doesn't have the room to expand his own vineyard, short of buying some more land. "Right now, the winery is keeping me busy enough that I don't really want to expand, he noted. "And there's more and more Iowa grape growers now."
Groninga still considers wine making as a hobby, despite the success of his rural winery. He has hosted wine tasting events, and has given several groups tours of the facility. He said there are no set hours, but he is open most weekends.
"I still do some elderberry wine and choke berry wine for family use that I don't make enough of to sell commercially," Groninga noted. "If I can't make a thousand bottles of something, it's not worth it getting into it commercially. All of these labels have to be approved by the federal government, so when it's wild fruits that i can only make five or 10 gallons of a year, I'm not going to mess with it. I still do a little bit of that on my own."
Groninga is experimenting now with an apple wine. He recently ordered 100 gallons of apple juice ordered from an Iowa Falls orchard, but he hasn't quite gotten down to where he will label and sell it. "I'm still playing with it," he said. "It's not at the point where I'm real happy with it yet. It's ok, but I think I can still make it better."
And while he has supplied several area restaurants, grocery stores and gift shops with his product, Groninga said about 60 percent of his sales are out of his own store.
Groninga has no idea how many people have come through the door, but a recent wine tasting saw over 300 people . "We get tour groups a lot," he stated. "It's hard to keep a count on everybody who's been out here."
"We sold about 5,000 bottles of wine last year," Groninga noted. "It'll be closer to 6,000 this year. We're in about 30 retail outlets now, and that's expanding. We picked up six this summer. And there's a huge grocery store market that we haven't gotten into. We've only marketed our wine in Ackley Super Foods."
Most of the wine from this harvest will be sold out of the winery direct to consumers. A few of the grape wines will find their way to retail outlet shelves, however, and even a few will be sold across America via internet sales.
Iowa passed legislation this summer that will allow stores, primarily gift shops, to purchase a permit to sell any Iowa wine. The permit costs just $25. "Otherwise, it costs $500 to sell wine," Groninga noted. "I've got eight or 10 gift shops right now that sell my wine. The state of Iowa is really trying to promote its wine industry. Most of it's being sold right here in Iowa."
İAckley World Journal 2003