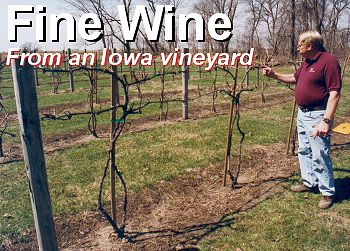 DR. KEN GRONINGA grows grapes on a fourth of an acre, right behind Eagle City Winery's gift shop and production facilities. Groninga offers tours of the vineyard and winery.
(Farm News photo by Darcy Dougherty Maulsby)
Eagle City Winery Thrives
in Hardin County
By DARCY DOUGHERTY MAULSBY
Farm News Staff Writer
IOWA FALLS - During his career, retired veterinarian Dr. Ken Groninga has worked his way from the barnyard to the vineyard. Now a winemaker at Eagle City Winery, Groninga is enjoying his new taste of success in rural Iowa.
"It has been fun starting a winery, and it's something new and different for many people in Iowa. We get lots of visitors and bus tours here. People are curious about the winery and want to see the vineyards," Groninga said.
Located southeast of Iowa Falls in rural Hardin County, the Groningas' Eagle City Winery has developed into a thriving business and tourist attraction. If you're looking for merlot, cabernet sauvignon or chardonnay, Eagle City offers it. But if you want something a little out of the ordinary-like cranberry wine or rhubarb wine-you've come to the right place.
"The rhubarb wine has been one of our most popular products. We also sell a red altar wine that churches use for communion services. I sell 70 percent of my wine from this shop, but you can also find our wines at 24 retail outlets within a 50-mile radius of here, from Ft. Dodge to Reinbeck," Groninga said.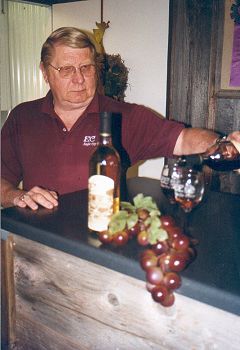 Getting started
Groninga's wines have proven popular with customers from around Iowa and across the country. "We opened the winery, tasting room and gift shop in December of 2000 and sold 5,000 bottles our first year. Our sales have remained strong ever since," Groninga said.
Groninga grows his grapes on a fourth of an acre, right behind Eagle City Winery's gift shop and production facilities. Prices for Eagle City wines range from $9 to $15 per bottle.
"In a good year, a grape vine will yield 14 pounds of grapes. This will make one gallon-or five bottles-of wine. If the growing conditions are good, you can make as much as $1,000 to $4,000 per acre raising grapes," Groninga said.
While Groninga admits he has always enjoyed fine wine, he wasn't always interested in winemaking.
For more than 30 years, Groninga worked as a swine and cattle vet in the Sheldon area. In 1991, Groninga and his wife, Carolyn, bought an acreage in 1991 near his hometown of Ackley.
Within a year, Groninga decided to try making wine from the various wild fruits and berries that grew around their acreage. "I tried everything, including elderberries, raspberries, mulberries, chokecherries and wild plums. I bought some books on winemaking, and just started this as a hobby."
He began entering-and winning wine competitions in 1995, including the Iowa State Fair, the Clay County Fair and the Steele County Fair in Minnesota. In 1998, his chokecherry wine earned a Best of Show award for a non-grape wine at the Iowa Sate Fair. Groninga has also won medals in international wine competitions like the Tasters Guild.
"It's been a lot of hands-on learning from the ground up, although my chemistry knowledge from my days in vet medicine helped," said Groninga, who learned some tough lessons when he started growing wine grapes in 1996. The first varieties he planted weren't hardy enough to survive Iowa's harsh winters.
"You couldn't really grow good wine grapes in Iowa until French-American hybrid grapes became available. They are a cross between French varieties and native grapes, so they can survive temperatures as a low as 20 or 30 degrees below zero," Groninga explained.
Processing the harvest
Today, Groninga's vineyard features varieties like Frontenac, Foch and St. Pepin. All the wine Groninga sells is made at the vineyard. How does the process from vine to wine work?
"We harvest the grapes at the end of August, when the grapes' sugar content reaches 23 percent. We take buckets out the vineyard and harvest the fruit by hand. Then we run the grapes through a machine that crushes them and separates the stems out," Groninga said.
In the production room located just off the gift shop and tasting bar, the crushed fruits are poured into 55-gallon stainless steel primary fermenters, where they will ferment for about a week. The product is then transferred to 20-liter glass bottles called secondary fermenters. The wine is processed several times through secondary fermenters to clarify the wine and remove the spent yeast.
Once the wine is filtered, it is bottled with a small vacuum-operated bottle-filling machine. The bottles are then corked and labeled by hand.
"The process from fermenting to bottling takes about 10 to 12 weeks. Then we age the wine for at least six months," Groninga said.
Labeled with the Eagle City Winery logo, the wine bottles recall a bit of local history, Groninga noted. Between 1850 and 1900, the area included the tiny settlement of Eagle City, which had a sawmill and gristmill along the Iowa River.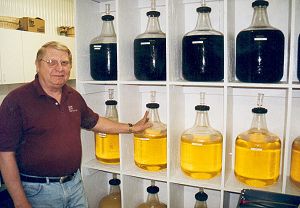 Growing a value-added crop
When Eagle City was still a town, grape growing was not a novelty in Iowa. By 1919, Iowa was sixth in grape production in the United States, according to the Leopold Center for Sustainable Agriculture.
Interest in grape production waned in the 1930s and 1940s, however, as the focus shifted to corn and soybean production. Widespread use of the herbicide 2, 4-D also damaged vineyards throughout the Midwest.
Groninga said he is fortunate that the farmers who grow crops near his vineyard use pre-emerge herbicides. "Those don't hurt the grapes like post-emerge herbicides can. Overall, the grapes are fairly easy to grow."
Grapes prefer sandy, rocky soil and require little or no fertilizer. "I don't irrigate them, either. In dry years, they do just fine," Groninga said.
The grapes require the most attention in the spring, he added. "It takes quite a bit of work to prune them, and learning to prune them right takes some practice. I also spray the vineyard with fungicides and insecticides in the spring. My biggest problem hasn't been insects, though. It's the deer and birds that eat the grapes."
People who are interested in growing grapes often turn to Groninga for tips. "I get a steady flow of people who want to learn about it. I'm not worried about competition. We all market to our local area, and hardly any two wineries make wine the same way," he said.
To learn more about the Eagle City Winery, call 641-648-3669, or go online to www.eaglecitywinery.com. To learn more about Iowa's grape industry, visit www.iowagrapegrowers.com.